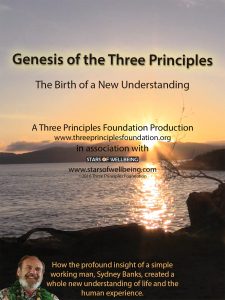 The Three Principles Foundation is pleased to present a new film, Genesis of the Three Principles: The Birth of a New Understanding, documenting Sydney Banks' experience uncovering the principles he shared with the world.
"We offer this film to preserve the legacy that Syd left behind—these three Divine Principles of Mind, Consciousness, and Thought, and the Divine Experience that Sydney Banks had. Together, they are the complete package for the world." Elsie Spittle
This DVD can be purchased on Amazon.com
UPDATE: Now Available as Book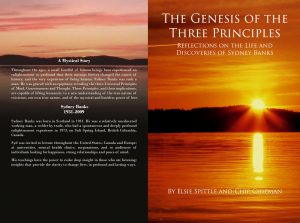 A new book, transcribed from the Genesis video, "Genesis of the Three Principles; Reflections on the Life and Discoveries of Sydney Banks" is now available on Amazon. It is a collaboration between Ana Holmback and the Three Principles Foundation. All proceeds go directly to the Foundation to disseminate Sydney Banks materials to those in need. This book gives the reader a glimpse into the life and work of a simple man who's profound insights are changing thousands of lives, world wide. It will touch your soul as well.
Digital Downlo

ad

Genesis of the Three Principles: The Birth of a New Understanding is now available on Amazon Video Direct in the following countries:

Recent comments about Genesis of the Three Principles:

"Thank you Elsie and Chip for the beautiful feeling brought forth in the latest foundation video 'Genesis of the Three Principles'. That feeling has been the cornerstone of certainty distinguishing how we are seeing life on a moment to moment basis – without distortion and with clarity of thought. A wonderful message that both sides of the coin are needed to see the complete package and value of how we function.

Thank you."

Tony DeVillier

"I finally got to watch Genesis in it's entirety –  truly, it is wonderful. You did a remarkable job, and the footage of Syd, the timing, everything, was perfect. I am so happy that it came together so beautifully… what a legacy! …admirable work, indeed. I think it should be shown in every community theater, the quality is that good."

Lori Carpenos
Marriage & Family Therapist, LMFT